Dealing With Water Damage in Biddeford I SERVPRO of Biddeford-Saco
1/6/2022 (Permalink)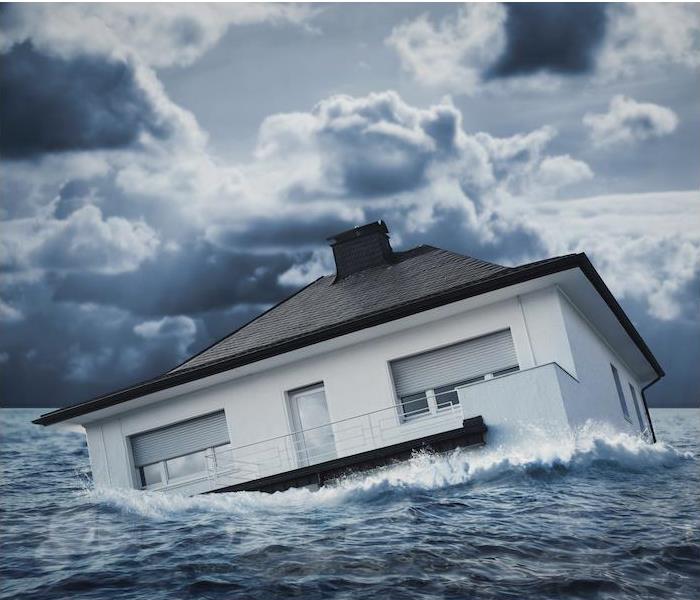 When water damage strikes, make the call to SERVPRO of Biddeford-Saco for A-to-Z cleanup and restoration.
It's happening right now, and—oh no, it's happening again. And it's going to happen several more times by the time you finish this blog. In fact it happens an average of 14,000 times a day. What is it?
It's water damage, and every few seconds, statistically speaking, someone in the United States is dealing with it in one of its many forms. It's one of the most likely home disasters you're likely to have to combat, and it can come from within, in the form of a burst pipe or hose leak, or from without, in the case of flooding, roof leaks or even a sewage backup.
It may never happen to you, but it certainly could—and if it does, here's how things will go when you call SERVPRO for help.
Emergency Contact. When you reach out by phone or web, the first person you'll talk to will be a SERVPRO expert who will ask you some questions by which we hope to ascertain the nature and severity of your issue. Then we'll plan a time with you wherein we can come meet you in person and get down to the dirty work.
Inspection and Water Damage Assessment. When we get to the scene, we'll first make sure no further water is encroaching on your home. We'll survey the damage and inspect your home, creating a fully-fledged plan for cleanup and recovery. We'll also inform you of any hazards we find and make an estimate about items we think will need to be replaced.
Water Removal. If a bucket could fix it, you probably wouldn't have called us. We'll use our industrial pumps to get rid of the gallons, maybe even tons, of water soaking your space, and we'll run them until every drop is removed.
Damaged Material Removal. As water is removed, we can safely haul away items that have been ruined beyond repair, leaving the rest of the home ready for drying.
Cleaning, Sanitizing and Deodorization. They don't call them "watermarks" for nothing—water makes its presence, and yes, even its absence, known by leaving stains and other unpleasantness behind, and we won't overlook that. We'll make sure every inch of stain and every scent of odor gets scrubbed away and dealt with.
Drying. This is a crucial moment in the process, because it helps prevent mold that can grow in your home shortly after water damage occurs. Special, high-powered vacuums and dehumidifiers will pull unnecessary moisture from the air and from surfaces like walls, floors and more, until your home is safely dry.
Monitoring. When you need us, we'll be right there, watching over the process to make sure everything performs its intended job and your home gets the care it deserves.
Repairs and Construction. Finally, we'll go through your home with a fine-tooth paintbrush, and hammer, and whatever else we might need to restore damaged surfaces, areas and items. When we're done, you'll be amazed.
When water damage strikes, make the call to SERVPRO of Biddeford-Saco for A-to-Z cleanup and restoration. We'll make your damaged property look "Like it Never Even Happened."